Drought Digest: Dry planet: In every continent, flashing red
Drought Digest: Dry planet: In every continent, flashing red
---
The Indian Express reports: The Global Integrated Drought Monitoring and Prediction System (GIDMaPS) map shows large patches of dry areas in every continent, indicating droughts of varying severity. The GIDMaPS is a drought monitoring and prediction system that provides near real-time drought information based on multiple drought indicators and input data sets, mostly from NASA.
Jamie Mullick, The Indian Express
The Dry Planet
2015 was the hottest year on record and March 2016 was the hottest March ever — and the 11th month in a row that set its own heat record, a record in itself. Scientists agree the unusually strong and prolonged El Niño, the surface warming of equatorial Pacific waters that releases heat into the atmosphere, is to blame, along with global warming. The drought in India — affecting 33 crore people in 256 districts, as per figures provided to the Supreme Court by the government — is part of a global spell of dry weather by which the Mekong basin, Horn of Africa, southern Africa, Australia, Central America have been worst hit.
Reading the map

GIDMaPS is a drought monitoring and prediction system that provides near real-time drought information based on multiple drought indicators and input data sets, mostly from NASA. The system was developed by researchers at the University of California, Irvine, who published their work in the Nature publication Scientific Data in March 2014. The GIDMaPS online interface is popular with users around the world.
INDICATOR used is Standardized Precipitation Index, or SPI, which is used by Indian meteorologists, and is recommended by the World Meteorological Organisation to monitor the severity of drought events. SPI represents the probability of a certain amount of rainfall occurring when compared with long-term rainfall data at a particular location. Negative SPI values indicate rainfall deficit; positive values show surplus. Larger the negative SPI value, the more severe the drought. A negative SPI value greater than 2 indicates extremely dry conditions.
INPUT DATA SET is MERRA, Modern-Era Retrospective analysis for Research and Applications — Land, which was developed by NASA in 2011 as a tool for improved study of spatial rainfall patterns, especially over small areas.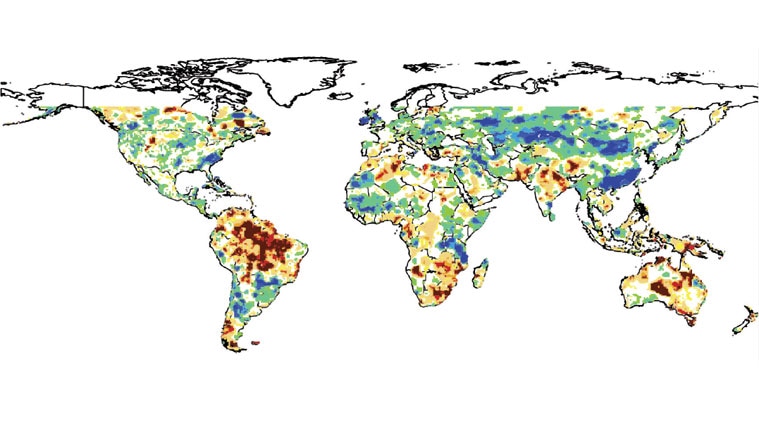 The drought in India is part of a global spell of dry weather by which the Mekong basin, Horn of Africa, southern Africa, Australia, Central America have been worst hit.

AMERICAS
Usually humid northeastern Brazil is witnessing its worst drought in 35 years, and has lost 49 trillion litres of water more than normal every year over the last three years, according to NASA. In Honduras and Guatemala, over 3 million have been hit drastically, according to the UN. 2015 too was a drought year for this 'dry corridor' of Central America. In Haiti, Nicaragua and El Salvador, 6 million people face malnutrition. Parts of the US have been hit too.
AFRICA
Some 40 million face food shortages as a result of crop failures as Africa reels under one of its worst droughts ever, according to the UN and Red Cross. Malawi, Mozambique, Zimbabwe, Lesotho and Zambia have been badly hit; South Africa says the drought in its north and west is the worst in a century. 10 million are on the verge of acute malnutrition in Ethiopia, Eritrea, Djibouti and Somalia; Ethiopia is seeing its worst drought in 50 years.
ASIA
Tens of million in the Mekong river basin — Myanmar, Laos, Thailand, Cambodia and Vietnam — have been severely hit. Myanmar has placed curbs on water usage; Vietnam and Cambodia have cut water to fields to save for drinking; rice crop has been hit in Thailand. In India, Marathwada, Vidarbha, Andhra Pradesh, Telangana, Gujarat, Bundelkhand, Chhattisgarh are in the middle of drought; in Pakistan, Sindh is seeing one of its worst droughts ever.
AUSTRALIA & PACIFIC
New South Wales, South Australia, Tasmania have been the worst-hit; Queensland, New South Wales have seen rain deficiencies similar to some periods of the nearly decade-long Millennium Drought of the 2000s. In the Pacific, the Marshall Islands, Federated States of Micronesia, Guam and Palau have declared national emergencies from drought — these porous-rock islands and archipelagos are in the middle of one of the worst disasters in their history.
RELATED
The world's having a meltdown, and these 10 cities are proof
Sahil Bhalla, Catch News
March 2016 was the hottest March in history, going back 136 years! It was a mindboggling 1.28*C above average across the planet. As Slate's Phil Plait puts it, its not just El Nino that is the obvious culprit. "Most likely there is a confluence of events going on to produce this huge spike in temperature-latent heat in the Pacific waters, wind patterns distributing it, and more." He adds, "El Niño might produce a spike, but that spike is sitting on top of an upward trend, the physical manifestation of human induced global warming, driven mostly by our dumping 40 billion tons of carbon dioxide into the air every year." Not everywhere is as hot as everywhere else, naturally – but the scale of the problem is alarming everywhere. Here's 11 cities bearing the brunt of mankind's mess.

Nasa warned of groundwater overuse in 2009
Rosamma Thomas, The Times of India
The drought across vast swathes of the country this year has not come about "suddenly" as Union water resources minister Uma Bharti would have us believe. In an interview to a TV channel, the minister said the government cannot quite "plan" for drought. However, in an article published in the journal Nature in August 2009, researchers had used data gathered by Nasa satellites to show that the rate at which ground water was being depleted in north India was far in excess of natural replenishment, and at least 20% higher than estimated by the government.
The great Indian water crisis: Data drought compounds depleting stock
Sindhu Bhattacharya, Firstpost
We have no clear idea about how much ground water storage capacity currently exists in the country. Yes, that is true. At a time when at least 10 out of the 29 states in India have declared a drought and all eyes are on the monsoon rains to bring relief, it is interesting to see that India is the world's biggest user of ground water. Both in terms of quantity and number of users. Water activists say thirty million Indians use about 230 billion cubic meters of ground water annually, for drinking and in irrigation. One would think a country so dependent on ground water would not only take abundant care of its ground water sources and their replenishment, but also have a fair idea of how much ground water there is. But data is one sore point in India's water wars.
(Visited 134 times, 1 visits today)