The price of development: Gujarat's dams are now drowning the state
The price of development: Gujarat's dams are now drowning the state
---
Sneha Vakharia reports: Gujarat's chronic floods, underreported and devastating, tell the story of Narendra Modi's failure to deliver the state from water scarcity, and the onset of a new kind of problem, with crucial political implications. Since the state began its battle to control its water, increasingly and unforgivingly, the water has started fighting back.
Since the state began its battle to harness and control its water, increasingly and unforgivingly, the water has started to fight back.
The monsoons have brought major floods to Gujarat every year since 2013.
Over the past five years, water has swallowed agricultural land all over North Gujarat, Kutch, and Saurashtra and left commercial hubs across the state crippled. Prime minister Narendra Modi and chief minister Vijay Rupani have maintained that "maximum possible efforts" are being made to rehabilitate flood victims. This is only half true.
Even though these floods are no longer unexpected, they are met with the same levels of unpreparedness every year. The state has done nothing to improve dam management or increase storage capacity, even as the flooding increases in frequency and severity with each passing year.
Those at the receiving end of these floods have received little to no support from the government. Foremost among the aggrieved are the Patels, a community that was once a Bharatiya Janata Party bastion. Hit by shrinking businesses, mounting debt, and climate change, many of them have turned against the ruling party under the leadership of Hardik Patel.
At its core, Patel anger is directed at state apathy. Gujarat's chronic floods, underreported and devastating for the Patels, tell the story of that apathy.
This is the story of Narendra Modi's failure to deliver Gujarat from water scarcity, and the onset of a new kind of problem. Since the state began its battle to harness and control its water, increasingly and unforgivingly, the water has started to fight back.
---
We begin our story in the home of Rurhiben Patel in Mongrol village of Banaskantha district in North Gujarat – the region worst hit by the floods of July 2017.
In June 2015, when the first bad floods had hit Patel's fields, Banaskantha received over 100% of its annual rainfall in three days. It wasn't just Banaskantha; across the state, dams began to fill up. Where maximum capacity was breached, water from dams was released. At least seven dams in Gujarat released as much as 1.5 lakh cusecs (cubic foot per second) of water each downstream. Villages, fields, and cities downstream were completely inundated. The official death toll was 218, with over 4.5 lakh people affected.
There were three lessons Rurhiben Patel learnt from the floods of 2015.
1. When the water comes, get out.
2. If you tie up the cattle, they will drown.
3. Avoid the fields and take the highway.
Two years later, the flood patterns repeated themselves, but the impact was worse. Up north, water descending from the Aravalli hills flooded the Sipu and Dhantiwada dams, destroying villages in its path in Banaskantha. The releases upstream took three days to reach Gujarat's largest city, Ahmedabad, leaving many parts of the city flooded. Simultaneously, there was record rainfall and flooding in the Saurashtra region.
Gujarat's many dams had been able to contain the water no better than a puddle can contain a stream.
On July 25 2017, water entered Patel's home and began to rise rapidly. It had been raining torrentially for three days. Relatives phoned warning them to get out.
This time, the Patel family knew what to do – or so they thought.
They began to pack essentials. Food grain from the last harvest was wrapped and placed on charpais (beds) on high ground, buffaloes were let off ropes, and the family began their walk towards the highway.
The highway is considered safe for two reasons: First, highways are built on higher land and are less likely to flood. Second, when lightning strikes flooded fields, people standing in them die. The fields needed to be avoided at all costs.
But within moments of reaching the highway, Patel and her family realised that the wisdom of floods past was going to be inadequate this time. The road was breaking apart and drowning under the gushing water, which carried with it bowls, spoons, mattresses, and bricks.
So the family returned to the fields. Though the water was deeper and the ground softer, the distances were also smaller – increasing their chances of getting to high ground. It took them about an hour to reach relatives a kilometre upstream. They stayed there till it was safe to come back, 10 days later.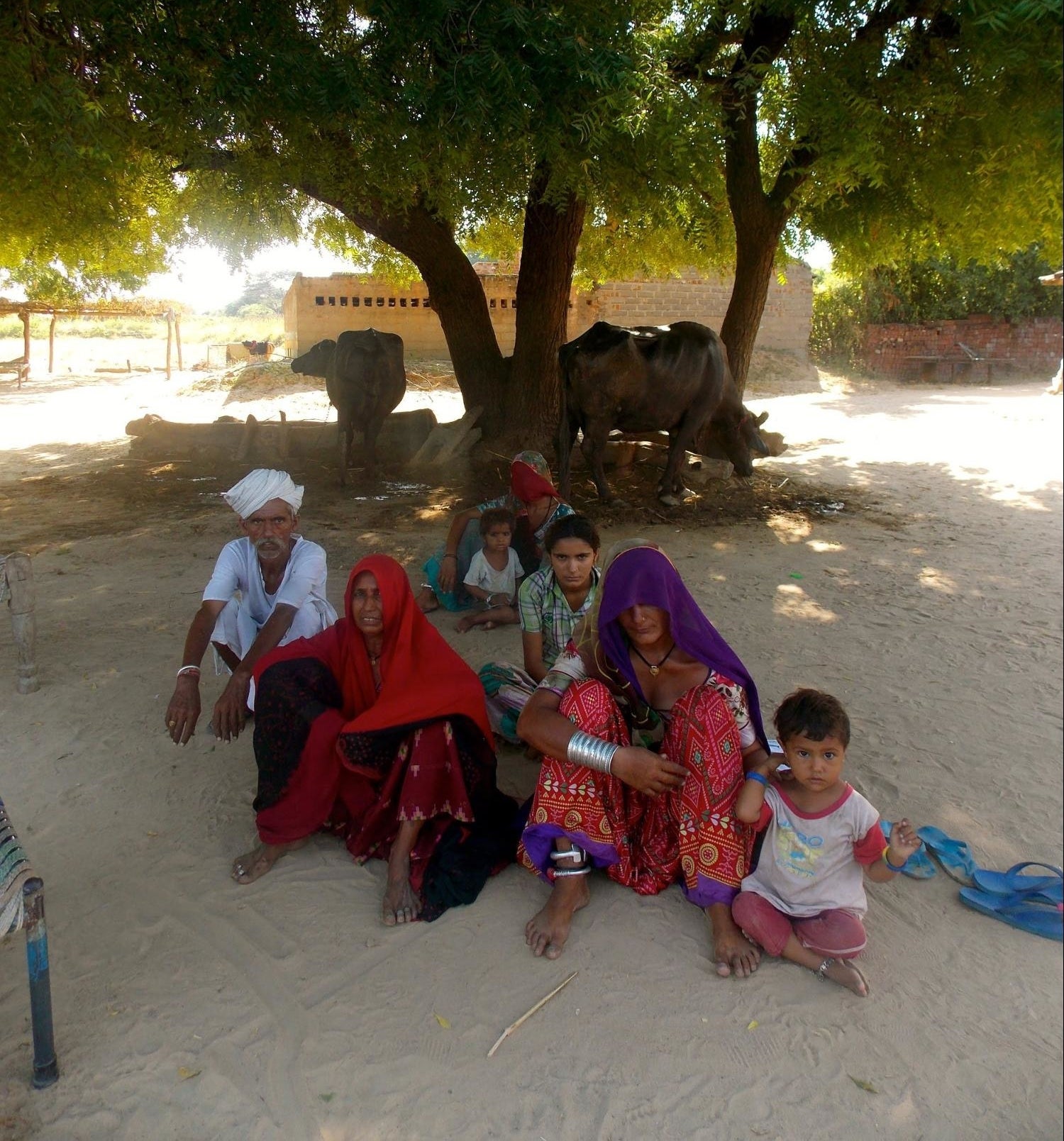 Ahmedabad's international airport runway was damaged, flights were diverted, and many portions of the city were flooded. No official death toll for the 2017 floods has been released. According to Gujarat Samachar, at least 224 were killed. Chief minister Vijay Rupani called itthe "worst flood of the century".
Ruhriben Patel's family owns three fields. The floods destroyed two of them.
In the one cultivable field they have left, the jowar looks ready for harvest. Patel picks a stem and breaks it open. The grain inside is green and round.
"This is good jowar," she grins.
Less than 50 meters away, is one of the fields that had flooded. "The water took a month to drain out. This crop is completely useless. See for yourself," she says. The crop in this field looks yellow and hollowed out, like chewed-up corn stalks. Patel breaks one stalk open. There is no grain inside at all.
As we walk towards the third field, the ground becomes sandier and hotter till the trees make way for open ground. Ahead is only broken earth. Fields have been levelled; not a tree survives. A thick layer of sand coats the ground for as far as the eye can see.
Patel picks up a handful of earth and places it in my palms. It is hard, white, and an inch thick, like a tile of clay. She quickly snatches it back and throws it in the sand angrily.
"I told you. It's completely useless."
Floods have destroyed the soil here twice in three years. This time it will take longer to heal.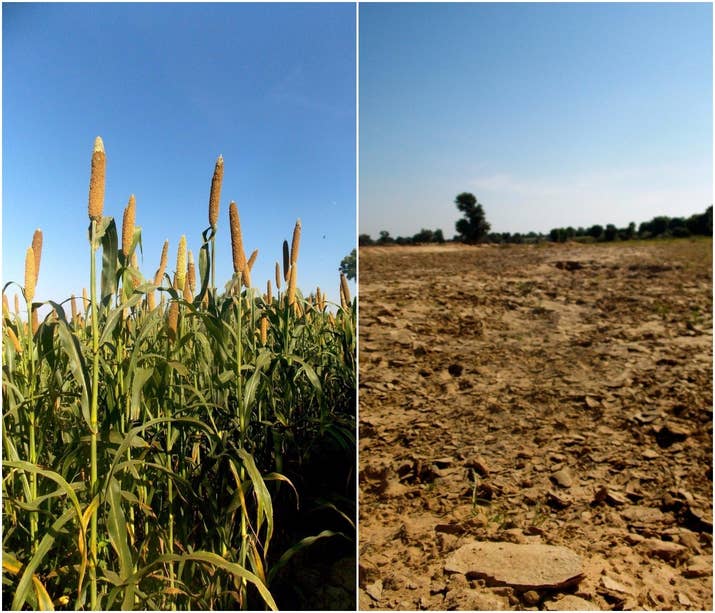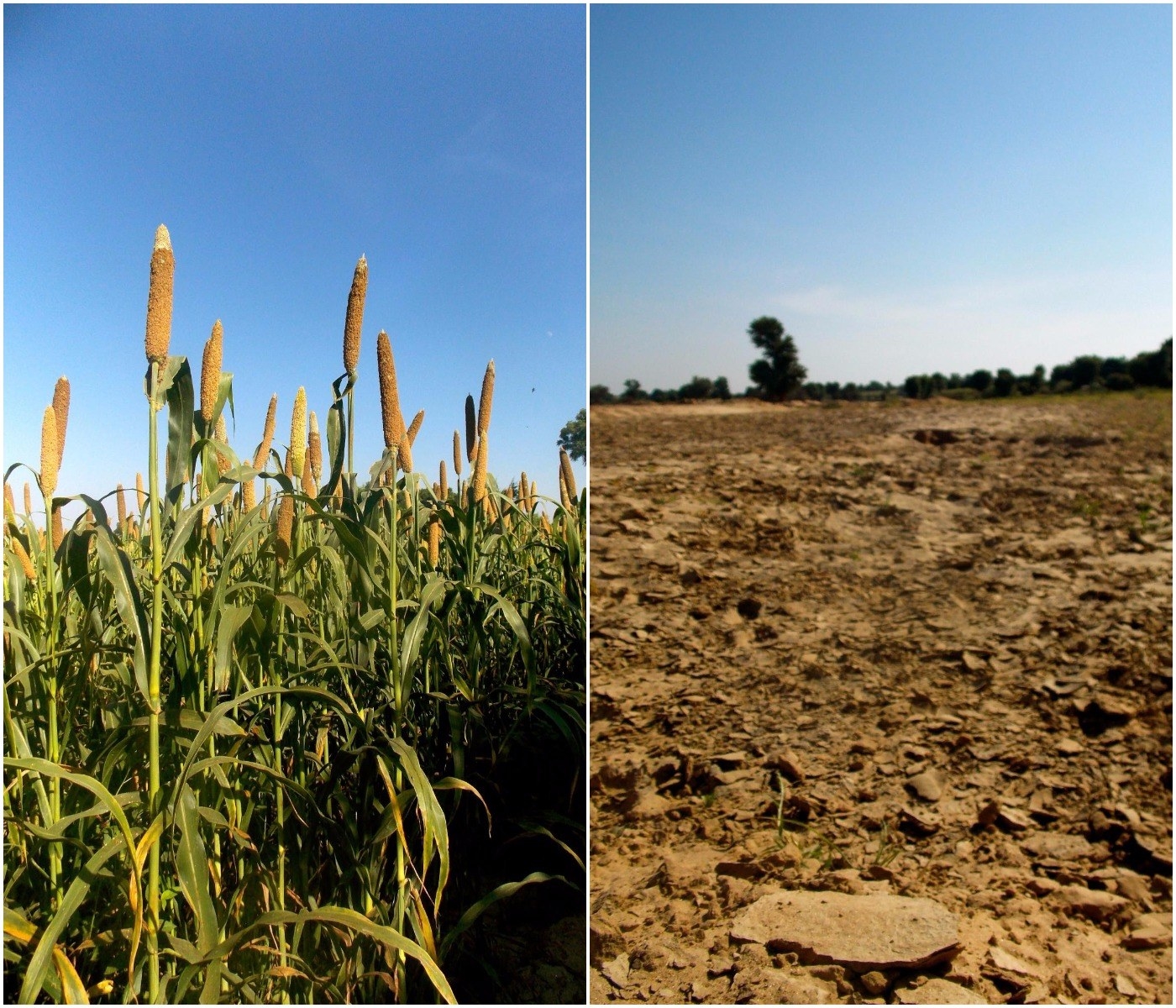 Compensation, though speedily dispersed – within three months of the floods – has been meagre. Families affected by floods in Mangrol received Rs. 600 per adult and Rs. 450 per child. Those whose homes were still underwater a month after the floods received Rs. 7,000 – enough to buy a tarpaulin sheet. Families of the deceased, it was announced, would received Rs. 2 lakh; the injured, Rs. 50,000. Farmers say they received no more than 20% of their crop losses as compensation.
Flood warnings were not sent out in time near the Dhantiwada dam, because of which several people died. In Kankrej, the intersection of the Banas River and the Narmada canal broke, because of shoddy planning and construction. Here, a family of 14 was found dead in their homes.
With the government treating flooding as an inevitable fact of life in the hope that flood victims will too, there is little reason to believe things will change.
In Mongrol, farmers like Rurhiben Patel who own multiple fields have had greater odds of surviving the floods. But for those with small fields covered in sand, options are limited. With their land destroyed, many must now find work as manual labour in the sub district headquarters, Tharad, 10km along the highway.
---
At first, Gujaratis didn't mind the floods very much. They were considered a necessary evil; a side effect of development and irrigation. To understand this apathy towards flooding, it is important to first understand the history of Gujarat's water problems.
In the late 19th century, as industrialisation crept into the Gujarat, it became apparent that water was going to be a limiting factor. Factories, requiring water and electricity, could be built only in the Narmada and Tapti river basins, in South and Central Gujarat. And to a lesser degree in North Gujarat, which had limited groundwater supply.
But in the vast expanses of west and northwest Gujarat – Kutch and Saurashtra – where there are no perennial rivers, and the terrain is rocky and groundwater sparse, industrial development was always going to be difficult.
Gujarat's first dams were built in the late 19th and early 20th centuries, to feed water and electricity to Rajkot and Jamnagar. In the century since, 600 more were built across the state. But they were never enough.
With 70% of freshwater resources concentrated in 30% of Gujarat's geographical area, dams in Kutch and Saurashtra were rarely able to collect sufficient water. On an average, Gujarat experienced a drought once every three years. Each time, Tanker Raj took hold and ensured that access to water stayed an indicator of social, economic, and geographic privilege.
In those dry decades, for many farmers, pastoralists, and labourers in Gujarat, the Sardar Sarovar Dam on Narmada river became something of a fanciful dream. An irrigation system that could bring water from the Narmada basin in the south to Kutch and Saurashtra in the west – and with it, respite from paucity. Perhaps even the possibility of abundance.
The dream eventually became a demand. It seemed like people wanted the dam even if the irrigation network caused the occasional flood, as environmentalists warned it would; even if it displaced lakhs of farmers and inundated thousands of villages in two states upstream, as it eventually did; even if it made two cities in Madhya Pradesh prone to earthquakes.
A long line of politicians, stretching back to Jawaharlal Nehru, had used the lure of the dam to increase their political mileage. But it seemed like nobody had the gumption required to surmount resistance across three states and deliver.
Enter Narendra Modi, who brought with him hope. He promised unprecedented development: irrigation, electricity, land, and water. On this crown of promises, the Sardar Sarovar dam was the Kohinoor. He promised to make it a reality, whatever the cost. He promised it would change the landscape of Gujarat.
Within a few months of coming to power, Modi began to deliver. Highways, dams, and factories were built at unprecedented pace. Gujarat's GDP grew at a pace that was consistently above the national average. By 2012, in spite of having only 5% of Indian population, Gujarat had 10% of India's workforce and 7.6% of India's GDP. In spite of its dire water paucity, it became an energy surplus state.
The rest of India soon wanted what Gujarat had and Modi's ruthless efficiency propelled him to the office of prime minister in 2014. Three years later, the Sardar Sarovar dam was completed and inaugurated. The Kohinoor was delivered to its people.
But despite all its sheen, the Sardar Sarovar project, and many other dams like it, have failed on their fundamental promise of delivering respite.
---
It is the last week of October. Two villages in Banaskantha, less than 300km from Ahmedabad, continue to remain under water. The floodwater that came never left.
In the village of Nagala, Narsangbhai Patel drives me in his SUV to a point near the entrance of the village. Here, on a wall, is a mark that recorded the water level on 31 July 2017, the week of the floods. At the center of the village, Patel estimates that the water is probably around 6 feet deep. In the months since, the water level has fallen by only 1.5 feet.
At the center of the village, Patel estimates that the water is probably around 6 feet deep. The ground here has softened, so we dare not test his hypothesis. A quarter of the village continues to live under tarpaulin sheets on the local school grounds because their homes are underwater. Those who can, have moved to warehouses on the outskirts of the village or to the homes of relatives on higher ground.
"I have lost only one of my three fields, so I can continue as a farmer, " says Narsanghbhai. The state elections are days away and his wife Navalben is a sarpanch of the incumbent Bharatiya Janata Party, so he does not say much more.
The village of Khanpur, 3km from Nagala, has suffered a worse fate. Homes of 3,000 people were swallowed by water, and in the months since the floods, only one home has emerged out of it. It took a family of 10 two weeks to clean.
I had scheduled a meeting with Prabhubhai Mali, a gram panchayat member in Khanpur. I am instead greeted by a group of 20 men and a handful of boys, Mali one of them. All of them answer all my questions simultaneously and take photographs with me on their smartphones.
"If you step on the ground hard, see what happens."
Mali steps on dry ground immediately outside to demonstrate, as do many of his friends, and water ebbs on to their shoes, like oil when you dab a pizza with tissue.
"Maybe if next year's monsoons are lean, the soil can heal."
His optimism is unfounded. Even if the soil heals, it won't stay healed for long. Khanpur, like Nagala, is surrounded by canals on three sides and a state highway on the fourth. Both villages act as catchments for monsoon floods reaching the sea.
This year, as soon as the village started flooding, a group of men set up pumps to drive the floodwater out and into a Narmada canal which bordered the village. Three days later, government officials shut them down.
"The canal water carries drinking water to cities," Mali explains. "We were polluting drinking water for cities."
So the villagers set up camp and waited for the government to do something. Ten days later, district officials arrived in Khanpur with pumps and pipes to drain water into a different canal. This canal provides drinking water through Kutch, and drains into the Arabian Sea.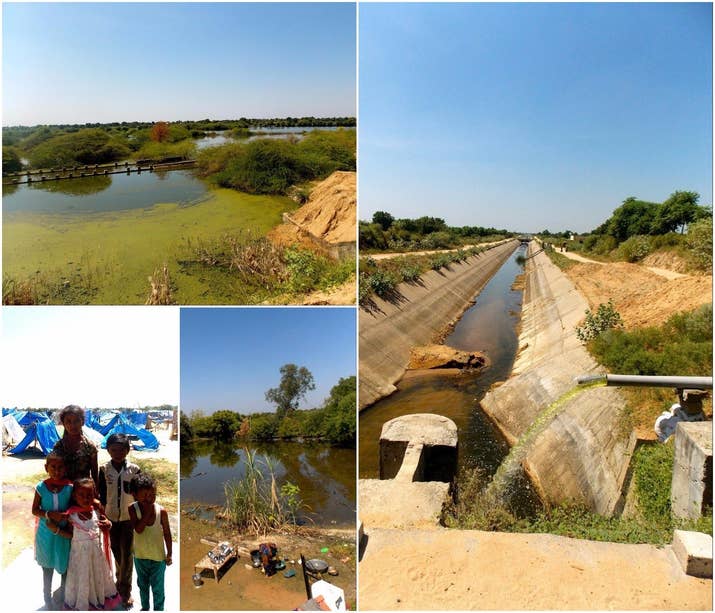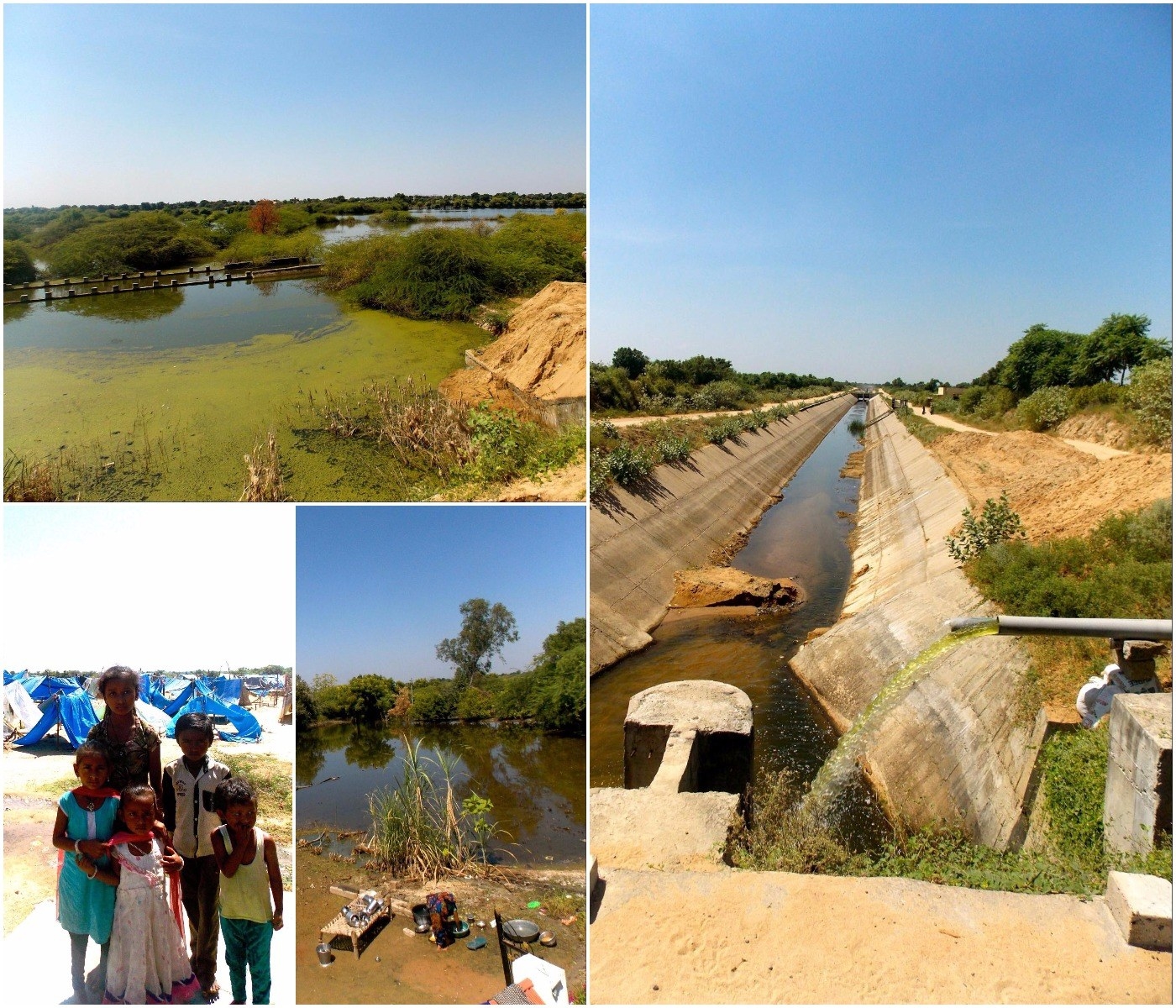 Despite the deployment of government pumps, the water in Khanpur has receded only 3 metres inward in two months. There are no fields to cultivate this year. Children no longer go to school, because village roads remain entirely under water. Those who need the money take the highway to Tharad to work as manual labour. Those who can afford to sit at home do. This is, after all, a relatively affluent village; many own SUVs and marble-floored homes, symbols of upward mobility brought by Narmada water.
Tharad, a small city receiving distressed farmers from across the district, has one oil refinery and a few small-scale businesses.
The Gujarat cabinet has given in-principle approval to a plan to relocate 15 villages, including Khanpur and Nagala, should the villagers so choose. Reliance Industries, itself a beneficiary of Narmada canal water, has also offered to adopt four villages.
Chief Minister Rupani told a gathering of villagers in Banaskantha in August, "The floods came in 2015, and again in 2017, so why do you want to live in the same place? We will relocate you. We will relocate the entire village if necessary. We are here for you."
"But," he added, "if you don't move, even God won't be able to save you."
Rupani's words may seem more coercive than reassuring, but they carry merit. With every subsequent flood, Khanpur will have less to lose. Bargaining chips are only going to fall.
Besides, State elections in Gujarat are one month away. Modi's BJP, which has been in power in Gujarat for 22 years, is already seeing anger from trading communities over the haphazard implementation of the goods and services tax. It cannot afford to lose the farmer vote. With the government in need of its support, now is the best time for Khanpur to broker a deal.
And yet the village hesitates.
There are two big reasons:
1. The state will relocate only homes, not fields, which means that if Khanpur decides to move, all agricultural land will be lost.
2. Farmers are unsure they will receive commensurate land for their homes.
"For 100 bighas (unit of land measurement) in Khanpur, what if they give 10 bighas somewhere else?" Mali asks rhetorically.
One farmer laughs, "Then we will continue living like this, ram bharose [at the mercy of God]."
The ground here is fit for little else but anti-incumbency. And still, no opposition party, including the Congress, has been unable to make much impact. When the leader of the Congress Party Rahul Gandhi visited Banaskantha in August 2017, he was greeted with sloganeering and bricks from BJP workers. Villagers of Khanpur and Nagala I meet say they have not seen Congress workers this election season, yet.
Caught between irresponsible irrigation and a tone-deaf government, Khanpur sits in the flood's path and waits.
This wait, as we will discover next, is a futile one.
---
It is the job of a dam to store as much water as possible. The ideal dam in an ideal world would be able to store all excess rain, however extreme the rainfall. Stored water would be used for harsher summers to come.
In dam parlance, to release water downstream is to "waste" it. In many parts of Gujarat, dams are "wasting" massive volumes of water, year after year. That's why there isn't enough water in the canals in the summer. Every year, tankers have to be deployed in the most parched regions. Droughts make their presence at regular intervals – roughly once every three years.
And in the monsoons, dams are filling to capacity as early as June and July – halfway through the rainy season – and have to release water into land inhabited by people.
The dams are neither able to effectively provide drinking water in the dry months nor are they able to prevent flooding during the monsoons.
There are many reasons why a dam is forced to waste water, or why it could fail.
Some dams and canals suffer from shoddy workmanship and construction materials. According to a government report from 2010, 14% of malfunctioning dams owe their failure to bad workmanship or piping. The same report states that 44% of failed dams fail within the first five years of their existence, demonstrating that they were designed and constructed poorly.
Some dams have problems with their spillway capacity, which measures control over water going in and coming out.
Some have been damaged in previous floods. Others are just poorly managed: Water is released too soon, or too late.
Information about dam health is scanty, making it impossible for citizens in the water's path to tell which problems occur where, and why.
All dams are supposed to be inspected twice a year; once before and once after the monsoons. This is only a preliminary examination. If the inspecting officer thinks everything's okay, the dam will not be inspected thoroughly except once in 10 years. So, on a rotational basis, only 8% of Gujarat's dams are inspected thoroughly every year. This in spite of the frequent floods.
If the inspecting officer believes the dam is not working properly, he can request a more thorough examination. In this second examination, problems are diagnosed and recommendations passed on to the Central Water Commission. The CWC then plays an advisory and coordinating role with the state governments. There are several problems with this entire arrangement.
First, there is no accountability for dam mismanagement. Dam Safety Officials are not held responsible for errors of judgment. In fact, discretion is encouraged. The Dam Safety Inspection Manual (last updated in 1987) says: "The establishment of rigid criteria of standards is not intended." It advises that the guidelines are "flexible". This choice of words is not peculiar to dam inspection manuals in India.
Second, the CWC is advisory in capacity. It has no teeth. Which means that if any state in an irrigation basin does a bad job and compromises dam functionality downstream in another state, there's nothing the CWC can do about it.
Third, no dam inspection reports have been compiled since 2013. The 2013 reports were only published in August 2015, after the floods. Those reports declared that 14 dams were in need of drainage repair work, 15 had cracks, 28 had damage to concrete, 26 had leakages, and 52 were reported to be "not as per design". Four dams, the Deo, Sukhi, Jhuj, and Prattapura, were diagnosed with "having major deficiencies that may lead to dam failure".
And sure enough, the areas surrounding all four of these dams were crippled by floods in 2015. And again in 2017. The government had also announced a program to map the floods in 2013. There has been no published progress on this project since.
Then there's the mega-problem to compound them all: Data used to design dams is becoming rapidly obsolete. Dams are designed using 30-year-averages for rainfall. Once designed, a dam takes years to construct. By the time it comes into being, the data is starting to get obsolete, and will get increasingly so every year. Because weather patterns have changed dramatically over the last 20 years, most of our dams are not equipped for the climate of today.
The minimum standard for dams is that it be able to handle all but the 99th percentile of floods – the once-in-a-century flood. Demonstrably, the standard is not being achieved. Every subsequent monsoon, this problem is going to get worse. This data problem is not peculiar to India.
With little transparency in dam management, the farmers do not know what to demand, because they haven't even diagnosed their problems yet. Rehabilitation is many steps away.
The systems that were once the hallmarks of Modi's successes are now symptomatic of their corroded and thoughtless underbelly.
For villages that flood, this indicates a return to akashi kheti, or the ancient agricultural traditions of looking to the skies and praying for rain. Only now, with equal fortitude and blind faith, Gujarat's farmers must pray to her dams instead.

RELATED
Spotlight: The Narmada valley's unfolding social and ecological disaster
Ecologise
Its 25 years since the Narmada Bachao Andolan started mobilising resistance against the destruction of life and livelihood in the Narmada valley. Today, with more than two lakh people who've not been resettled threatened with submergence, that resistance is being revived. A closer look at the history and politics of big dams on the Narmada river.
River inter-linking: India's $168 billion 'development' nightmare
Swati Bansal
The project envisages the building of many dams, canals and tunnels, which will lead to a huge social and environmental cost. The proposed Ken-Betwa link alone will destroy over 4,100 hectares of forests. If a single project of interlinking could accrue such an environmental cost, what will be the impact of 30?
India's big dam mania brings achche din to its corrupt dam lobby
Himanshu Thakkar
Can we expect any improvement in state of our water resources under the new minister Shri Nitin Gadkari? It was interesting that after taking over the portfolio from Uma Bharti, Gadkari's first stop was Maharashtra, to offer the Chief Minister Rs 55 000 crores for same corruption-ridden irrigation projects in three years.
The Gujarat Model – An obituary and a warning
Ecologise
Whoever wins the Gujarat elections, its clear that as a political idea, the Gujarat development model is floundering, and may never be revived. It may have been a textbook case of what development should not be like, but given the powerful interests it serves, it's still likely to haunt India's policies for years to come.
(Visited 399 times, 1 visits today)