The hydropower paradox: is this energy as clean as it seems?
---
Hydropower is a significant source of greenhouse gas emissions: a new study shows that the world's hydroelectric dams are responsible for as much methane emissions as Canada. The study finds that methane, which is at least 34 times more potent than carbon dioxide, makes up 80% of the emissions from water reservoirs created by dams.
In July, UN Secretary Ban Ki-Moon highlighted the role of hydropower in boosting the use of renewable energy globally, when he visited a nonprofit institute in China that helps emerging nations develop and build hydropower plants. Many countries consider hydroelectricity a clean source of power because it doesn't involve burning dirty fossil fuels. But that's far from true. Hydropower is a significant source of greenhouse gas emissions: a new study shows that the world's hydroelectric dams are responsible for as much methane emissions as Canada.
The study from Washington State University finds that methane, which is at least 34 times more potent than another greenhouse gas, carbon dioxide, makes up 80% of the emissions from water storage reservoirs created by dams. What's more, none of these emissions are currently included in global greenhouse gas inventories. These are already revealing a worrisome future in which rising global temperatures will likely cause environmental changes such as rising sea levels and stronger hurricanes, which could uproot communities and intensify competition for food and other resources.
"I think this study shows that dams as a source of energy aren't without their greenhouse gas costs," says Bridget Deemer, a research ecologist at the US Geologic Survey, who led the study during her prior position as a research associate at Washington State. "Even though it's a renewable source of energy, people should keep the greenhouse gas side of the picture in mind when making planning and policy decisions regarding dams."
The research, which examines 100 recent studies on greenhouse gas emissions from 267 large reservoirs around the world, also calls into question the wisdom of building more hydroelectric dams as countries try to nix their dependence on coal, natural gas and oil. An estimated 3,700 new dams are proposed or under construction around the globe, the study reports. It suggests the hydropower industry will need to control its emissions.
But industry officials in the US say the study misrepresents the benefit of hydropower in the fight to rein in global warming.
"Singling out hydropower is irresponsible and inaccurate, to say the least," says LeRoy Coleman, a spokesman for the National Hydropower Association, based in Washington DC. "Hydropower is needed to meet federal and state clean energy goals."
Hydropower represents 6% of all energy generation in America, according to the US Energy Information Administration. For newly built power plants, hydropower's total cost of construction and operation runs about $68 per megawat-hour, which is comparable to solar, slightly more expensive than wind, and cheaper than coal and natural gas when those sources incorporate technology to capture carbon emissions.
Hydropower is often considered a source of renewable electricity because its fuel, water, is constantly replenished by nature. By that standard, hydropower produces 52% of all renewable electricity in the US, according to the National Hydropower Association.
Only 3% of reservoirs in the US are equipped to produce hydropower, Coleman says. Others are limited to water storage and flood protection duties, and some of them are good candidates for electricity generation, he adds.
"The responsible and logical approach would be to capture the energy potential of these reservoirs and combat climate change by installing hydropower equipment," Coleman says.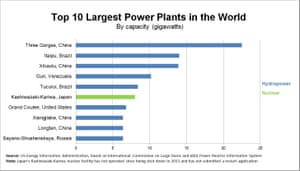 As recently as a decade ago, little was known about emissions from water storage reservoirs. But understanding has evolved rapidly. For instance, researchers initially thought shallow reservoirs in tropical regions were the largest emitters because their stored water was more prone to heating up, which could fuel greenhouse gas production.
But analysis by Deemer and her colleagues shows that the latitude and depth of water are not leading factors. Instead, "biological activities" in a reservoir – such as decaying vegetation and nutrient runoff from watersheds upstream – are more important indicators of greenhouse gas emissions. The nutrient runoff can be from natural processes or from farming, logging and land development.
Using data from the 267 reservoirs, the authors estimate total emissions from all reservoirs worldwide and conclude that those water storage facilities account for 1.3% of all manmade greenhouse gas emissions.
Another new study published by the journal PLOS One reaches similar conclusions, although it finds carbon dioxide to be a bigger share of emissions than methane. After examining data from more than 1,400 dams worldwide, it identifies the rate of soil erosion into a reservoir as a leading predictor of carbon dioxide emissions.
Led by Laura Scherer, a research associate at the Swiss university ETH Zurich, that study concludes the "carbon footprint of hydropower is far higher than previously assumed".
"These are massive emissions, and we can't ignore that," says Kate Horner, executive director of the environmental group International Rivers, based in Berkeley, California. "There are a massive number of dams that are currently proposed to be built. It would be a grave mistake to continue to finance those with the impression that they were part of the solution to the climate crisis."
Coleman contends that it's premature to use data from these studies to criticize hydropower because the science remains uncertain.
It is challenging to measure reservoir emissions because so many factors can play a role, Deemer acknowledges. The scientific community also doesn't follow a standard practice for counting emissions, even though the International Hydropower Association and the United Nations Educational, Scientific and Cultural Organisation (Unesco) published a set of guidelines in 2010.
Emissions vary according to a wide variety of factors, including water and air temperatures, season and time of day, vegetation and soil types in both the reservoir and the upstream watershed, and watershed management practices.
Hydropower dams constantly manipulate water levels to make electricity, a process that also affects the amount of emissions that make their way into the atmosphere from the reservoir. As water levels decline, the hydrostatic pressure on submerged soils also lowers and allows gas bubbles to escape. Sometimes the methane in these bubbles is absorbed by the water column and never reaches the surface. Other times it makes the great escape into the air.
Deemer and her colleagues note that many studies don't sample emissions thoroughly enough both across reservoir surface area and over time. As a result, she says, the emissions estimates in her study are probably low.
The challenge in measuring emissions also makes it difficult to figure out how to reduce them. Researchers speculate it may be possible to reduce emissions by managing water levels in a reservoir differently. This, however, could affect electricity generation, fishery and flood protection, and other operations.
Protecting watersheds to reduce erosion into reservoirs could also reduce emissions as well as improve water quality, forest health and aquatic habitat.
Global greenhouse gas inventories currently do not include emissions from reservoirs at all, but that is changing.
At an October meeting in Bangkok, a committee of the Intergovernmental Panel on Climate Change took a first step by agreeing to include reservoirs, which it categorizes as "flooded lands", in an updated guidance document that instructs nations on accounting for their greenhouse gas emissions. But it may be several more years until that document is formally approved.
The US government does not account for reservoir emissions in its own greenhouse gas inventory. The country is dotted with roughly 79,000 dams, including more than 2,200 private and public hydropower plants. The US Bureau of Reclamation, for example, manages 337 reservoirs, and a science advisor to the agency, Dave Raff, says the bureau is taking on the emissions accounting task.
"We're engaged in trying to understand what the different mechanisms are for reservoirs as they generate these greenhouse gases," Raff says. "And ultimately, what are the management levers we have to pull that could mitigate those. I do think we feel a sense of urgency to be on that path."
The article was amended on 6 November 2016 to show that the cost of building and operating a hydropower plant is about $68 per megawtt-hour, not kilowatt-hour.

RELATED
Hydroelectric dams emit a billion tonnes of greenhouse gases a year, study finds
The Guardian
Hydroelectric dams contribute more to global warming than previously estimated, according to a study published in BioScience. It appears that the current and planned boom of hydroelectric projects would double the current cover of dams in the world and will aggravate the problem. COP22 host Morocco launches action plan to fight devastating climate change Read more Researchers found that rotting vegetation in the water means that the dams emit about a billion tonnes of greenhouse gases every year. This represents 1.3% of total annual anthropogenic (human-caused) global emissions. When considered over a 100-year timescale, dams produce more methane than rice plantations and biomass burning, the study showed.
Interview: 'Big reservoirs are an outdated technology'
Kunal Shankar, Frontline
AT 87, T. Hanumanth Rao is an untiring civil engineer who keeps himself abreast of the latest developments in his area of expertise—irrigation and water management. Hanumanth Rao's has been the most persuasive and articulate voice against the Telangana government's redesign of one of the State's main irrigation projects, the Kaleshwaram Lift Irrigation Scheme. The project proposes to lift about 160 thousand million cubic feet (tmc ft) of water at the confluence of the Godavari and the Pranahita rivers on the border of Telangana and Maharashtra and supply it down south going over much higher ground through central Telangana, and finally almost reaching the capital, Hyderabad.
Managing the mega irrigation beast
Frank van Steenbergen, Down to Earth
Mega irrigation projects are the big elephants in the room. Located along many of the world's large rivers in arid areas—the Indus, the Ganges, the Nile, the Amu Darya—they are spread over several hundred thousand to millions of hectares. First is their sheer size, spread over hundreds of kilometres. It is all but easy to distribute water equally, fairly or even reasonably. The chances that water is stolen or plainly diverted along the way are large. Damage may occur too. Canals may be breached and weirs may malfunction—all leading to a ripple effect in the lower part of the system. The downstream may also be flooded and waterlogged if there is too much water in the mega system. All these factors make mega irrigation systems difficult to handle.
Removal of Klamath Dams Would Be Largest River Restoration in U.S. History
Molly Peterson, KQED
Four hydroelectric dams may soon be demolished along the Klamath, near the California-Oregon border. Hundreds of miles of the Klamath would run free to the Pacific Ocean — opening up the largest river restoration in U.S. history. What's made this possible is compromise, forged over years of negotiation, among upriver and downriver interests, in California and Oregon, farmers and tribes and fishery advocates.
Hydro Boom Sparks Violent Conflicts In Nepal in South Asia
Louise Voller, DanWatch
The paradox is easy to spot.  Running water is Nepal's strongest asset at the moment, not only for investors in hydroelectric power plants, but also for communities that still lack electricity.  Nevertheless, a steady stream of disputes has arisen between local populations, the government, and an increasing number of hydro plants that are meant to create electrical currents out of water currents.
(Visited 87 times, 1 visits today)