Dia Mirza on the Uttarakhand fires and how we fail our forests
Dia Mirza on the Uttarakhand fires and how we fail our forests
---
Dia Mirza writes:  We cannot call this devastation of ecology and livelihoods 'natural calamities' anymore; it's evident that there is a nexus of powerful people who are ignorant to the ramifications of their idea of "development" and "progress" that is gutting our forests, polluting our rivers and leading many states to a state of drought.
"In the end we will conserve only what we love, we will love only what we understand, and we will understand only what we are taught."
– Baba Dioum
Earlier this year, I completed a wondrous journey along the course of the Ganga that commenced in Uttarakhand, the birthplace of the Ganga. Uttarakhand's forests feed many important river systems that are the life source of millions across many Indian states. A state with 71% forest cover that has 743 bird species (this represents about 60% of India's avian biodiversity), 102 mammals, 72 species of reptiles and 439 species of butterflies. A state that is home to an estimated 340 wild tigers that are protected by two nature parks, Rajaji National Park and the very famous Corbett.
This state literally cradles our future.
When Ashish, the forest officer from Rajaji National Park, was describing the life of a forest ranger and their biggest threats to me, he said, "It is not so much the wild animals or poachers or even the fact that we patrol over 25 kilometers of land by foot per day, it is the forest fires that remain our biggest challenge." Little did I know that just a few months later, I would be witnessing the enormity of this challenge at home on the news! As I watched the forest in flames, I had tears streaming down my face, because all I could see were those very forests I had walked through and driven by for the weeks I had spent in Uttarakhand, absorbing and understanding in depth the beauty and challenges of the region not so long ago.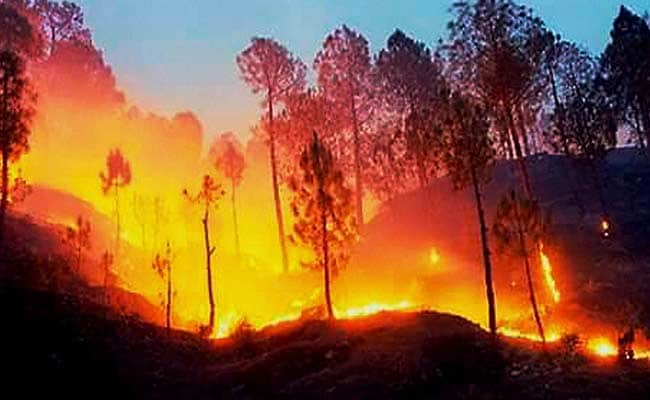 I knew, now that I had spent time with Ashish, what an extraordinary challenge this was. What it meant to risk the life of every person who attempted to extinguish these flames. How the Timber mafia could possibly have a role to play in setting these flames, or even an ignorant landowner who wanted to clear a patch of his land to help grow fresh grass for his herd to graze. I knew better now – that it was the changing forest that was also responsible for the threat of fire. The broad-leaf Himalayan forests have over the years been replaced by the Chir pine in most lower hills and ranges and these shed pines that are highly combustible material.
Today, as I watch the news and see the forests of Uttarakhand go up in flames, it breaks my heart, because I know now that while forest fires are not an unnatural or rare phenomenon in this region, these fires have occurred well before they normally do – and with an intensity so fierce that it is evident that the people on the ground are finding it impossible to combat. These fires have destroyed more forest and livelihood than what is considered "natural" to the region. I know now that this has happened because of years of neglect and ignorance. I know now that this is happening as a consequence of poor natural resource management.
Every person I spoke to during my time in Uttarakhand indicated that the cause for deforestation, pollution of the rivers, illegal mining and soil erosion was the result of a deep-rooted ignorance and apathy. If it weren't for the incredible resolve shown by many that I met along my journey to educate and improve conditions, I would have come away disillusioned. It is people like Ashish, the forest ranger I met in the Chilla range of Rajaji National park, who had quit a bank job to protect the forest, or Dr. Anil Joshi of HESCO who strengthen my belief that there is a revolution underway.
Students, teachers, priests, gurus, forest officials, eco-warriors, farmers, children are working every day to ensure that nature is protected and this deep-rooted ignorance of how interdependent the human existence and prosperity is with Nature is removed.
Forest fires, floods and drought are all connected to climate change that is now being evidenced in many ways across the country. These occurrences can no longer be called natural calamities as they are fueled by the abject ignorance of the people. We cannot call this devastation of ecology and livelihood a natural calamity anymore because what is evident on the ground is that there is a nexus of powerful people who are ignorant to the ramifications of their idea of "development" and "progress" that is gutting our forests, that is polluting our rivers and that is leading many states to a state of drought.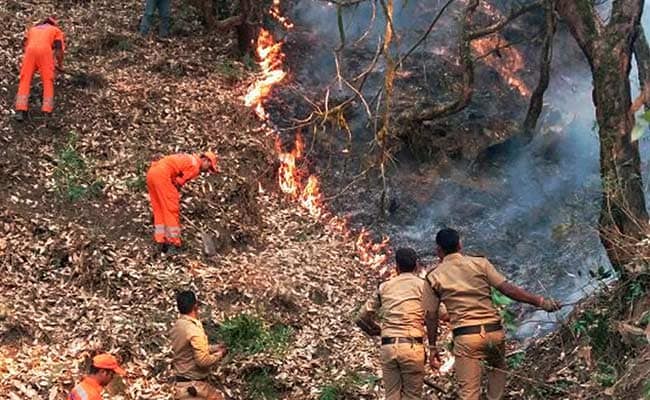 Conservationists have been warning our governments for long now that the threat of forest fires will increase and intensify due to ground moisture evaporation and higher ambient temperatures. Rains will continue to elude us because of the loss of forest cover that further depletes soil moisture. The severity of drought will increase for the same reason. Rivers will dry up if the forests that feed them are not protected. It will take the active participation of public and private partnership to secure our natural resources.
The good news is that the work has begun.
No economy or people can ever flourish without a healthy ecological balance. We the people of India cannot afford to ignore the importance of natural resource management, the value of ecosystem services and the disasters staring us in the face on account of climate change.
Forests feed rivers.
Rivers are the lifeblood of the environment.
One cannot exist without the other.
All life is connected to these forests that feed rivers.
Even your life and mine.
(Dia Mirza is an actor, producer and nature lover. She is Founder Member, Club Nature, Wildlife Trust of India, Ambassador for Sanctuary Asia's Tiger conservation program and also hosts the show, Ganga – The Soul Of India.)
(Visited 192 times, 1 visits today)