On International Forests Day: Reality of Forests in India
Photo by Vaishnavi Suresh/PEP Collective
On International Forests Day: Reality of Forests in India
---
21st March marks International Forests Day: A brief look at the state of Forests and Forest Rights in India today.
Changes in conservation Rules ease development projects on forest land
Every time forest land was diverted for a development project, industries were required to identify an equal area of non-forest land for afforestation. This requirement changed on June 28, 2022 when the Union government notified new Forest (Conservation) Rules, that allow the exchange of private and deemed forests for compensatory afforestation. Although the rules do not explicitly mention private or deemed forests, documents that Land Conflict Watch, a data research agency that tracks conflicts involving natural resources, obtained from the Ministry of Environment, Forest and Climate Change (MoEFCC) through the Right to Information Act suggest that the rules will apply to such forests. Critics argue that this will lead to the evasion of the stringent provisions laid out for clearing forests for projects relating to mining and other industries.
https://frontline.thehindu.com/environment/spotlight-no-jungles-out-there-changes-in-conservation-rules-ease-development-projects-on-forest-land/article66056457.ece
Tribal communities across the country have asked the central government to withdraw the recent amendments to the Forest Conservation Rules. Activists said the amendments directly axe the rights of tribes and forest dwellers over forest resources.The changes offering ease to businesses will also dilute the essence of forest rights and environmental conservation, activists said. FRA had made it mandatory to seek "free, prior and informed consent" of families affected by the diversion of forest land, said Gopinath Majhi, state convener of CSD. "A letter from the district collector was required seeking permission for land-use diversion," he said. However, now the rights have been delegated to the state governments. Removing the clause dilutes the rights, as permission from the states is merely a formality for the users.
Allocating land under the FRA is just for show as diluting the rules takes away their rights, he added. MOEFCC ignored the objections raised by the tribal affairs ministry, said Tushar Dash. He is an independent researcher working for the rights of tribals. "Only the Gram Sabhas have the authority to decide on the diversion of forest land to potential users under the FRA," he said. Corporates and other commercial entities can now easily arm twist tribal communities to obtain necessary consent or suppress any opposition, a conservationist said on the condition of anonymity. Dash said another issue is the introduction of land banks for afforestation purposes. "Tribals use the revenue forest land for livelihood purposes. The new guidelines allow private players to use the land for plantation, which can lead to monoculture cultivation — thus affecting biodiversity," he added. Plantations for commercial use by private players are another threat as the locals will be deprived of the use of land primarily meant for them, Dash added. The new provisions also provided exemptions on projects requiring over 1,000 hectares of land, he further said.
https://www.downtoearth.org.in/news/environment/amp/changes-to-forest-conservation-rules-dilute-forest-rights-say-tribal-communities-84000
Tharu tribal women of Dudhwa battle for their right to the forest: The Dudhwa National Park located in the Terai belt of Uttar Pradesh, wedged between India and Nepal, is home to the Tharu tribe. The establishment of the Dudhwa National Park in 1978 resulted in the relocation of 44 of the 46 Tharu villages in the core of the park. Since then, the Tharus have faced eviction and harassment from forest officials. To fight for their forest rights, a group of women set up the Tharu Adivasi Mahila Mazdoor Kisan Manch in 2009.
https://india.mongabay.com/2023/01/tharu-tribal-women-of-dudhwa-battle-for-their-right-to-the-forest/
In the pristine Hasdeo Arand Forests of Chhattisgarh, the multibillion-dollar mining giant Adani has razed trees – and homes – to dig more coal.
How does this kind of destruction get the go-ahead? Read full story by Ankur Paliwal: 'It was a set-up, we were fooled': the coal mine that ate an Indian village
The Adivasis of Hasdeo Arand are fighting against privatisation of forest resources and for forest conservation:
Spread across 170,000 hectares over the three districts of Surajpur, Surguja and Korba lies the dense forest of Hasdeo. Known as the "lungs of Chhattisgarh", Hasdeo Arand is one of central India's largest contiguous tracts of forest, with rich biodiversity, an elephant habitat, the catchment area of the Hasdeo Bango dam. The three districts are home to some 1.79 million Adivasis, including those from the Gond, Oraon and Lohar communities. Currently carved into 18 coal blocks, Hasdeo Arand has been the site of conflicting interests–mining, environmental, and a sustained decade-long resistance by its Adivasi communities, to felling of trees and mining in the area.
"The movement dates back to 2011 when Parsa East Kete Basan (PEKB), allotted to the Adani group [through Rajasthan Rajya Vidyut UTP. Nigam Ltd], was granted forest and environment clearance," says Muneshwar Singh Porte, a 27-year-old member of the Hasdeo Arand Bachao Sangharsh Samiti. Porte, who is from the Gond tribe and hails from Fatehpur, a village in the district of Surguja, has been associated with the movement for a decade now. The clearance was granted despite expert bodies–the Indian Council of Forest Research and Education (ICFRE) and the Wildlife Institute of India (WII)—deeming Hasdeo Arand a 'No-Go' area. In June 2022, the Union government deleted the clause mandating the Gram Sabha's consent from the Forest Conservation Rules 2022. The Forest Rights Act of 2006 asked that informed consent be taken from the Gram Sabha before diversion of forest land. This gave the forest dwelling communities agency to decide what they wanted to do with the land they inhabited and around which their lives revolved. Experts suggest the recent amendment has reversed the process and put the tribals, and their lands, at risk of exploitation.
[ALSO READ]
Investigation by Scroll.in: Adani power stations get coal from Hasdeo Arand mine allocated to Rajasthan:
In Pictures: The rich Hasdeo Arand on the road to become a ravaged Korba?
Environmental path cleared for Great Nicobar mega project: The container Terminal that could sink Great Nicobar Island
The government of India is pursuing a massive development project involving a container terminal, airport, township, and a power plant on the Great Nicobar Island in the strategically important Andaman and Nicobar Islands region. The project has raised alarm bells among environmentalists, scientists, wildlife experts, and civil society organisations. They highlight it would result in irreversible damage to the pristine rainforests as it involves cutting of about 852,000 trees. Those opposing the project also highlight that it would adversely impact primitive tribal groups and wildlife including species such as leatherback turtles, saltwater crocodiles, Nicobar crab-eating macaque and migratory birds. Civil society organisations have called for a revaluation of the project as they noted it falls in an active high-risk seismic zone.
https://india.mongabay.com/2022/07/the-container-terminal-that-could-sink-the-great-nicobar-island/
A long strip of the island predominantly covered by forests has been chosen for the implementation of the project. About 122 square kilometres of the 166 square kilometre project area is made up of forests, and nearly 9 square kilometres, are deemed forests. The northern tip of the project area falls well within the biosphere reserve, which means that about 71 square kilometres of the biosphere reserve area would also have to be earmarked for it. Galathea Bay, a major nesting site for leatherback turtles, was home to the Galathea Bay Wildlife Sanctuary. It was stripped off of its protected status and denotified recently. The central components of the project, the ICTT and the international airport are to be constructed in this part of the island.
https://india.mongabay.com/2022/10/maps-environmental-path-cleared-for-great-nicobar-mega-project/
A contentious proposal: How the loss of a tropical forest in Nicobar could end up funding a jungle safari in Haryana
Weeks before India's environment ministry gave permission for 130 sq km of tropical forests to be cleared to make way for development projects on the Great Nicobar Island in the Indian Ocean, the chief minister of Haryana, a landlocked state 2,400 km away, was already announcing plans for how the money raised from the deforestation would be used. Both the legality and the ecological impact of the move are being questioned by environmentalists.
https://scroll.in/article/1041669/how-the-loss-of-a-tropical-forest-in-nicobar-could-end-up-funding-a-jungle-safari-in-haryana

Tracking dubious timber trail & myth of Afforestation
(Report by Indian Express)
Irreversible environmental damage by loggers and dubious auditing firms undercut an elaborate global system to fight forest destruction and climate change. Exposing this is the focus of "Deforestation Inc.", the latest investigation by the International Consortium of Investigative Journalists spread across 27 countries. The India leg of the investigation, by The Indian Express, has found that the story of India's forests is not just about large-scale deforestation or illegal logging, it's also about the lack of official transparency on the status of the forest itself. And the growing tendency to make up for deforestation of natural forests with man-made plantations.
The Indian Express accessed and cross-checked a part of the geo-referenced forest cover data which the government, since the 1980s, has refused to share with the media. These give a glimpse, for the first time, to what is categorised as forests in the official interpretation of satellite images: commercial plantations on encroached and cleared reserve forest land; tea gardens; betel nut clusters; village homesteads; roadside trees; urban housing areas; even VIP bungalows in the heart of the capital. Over the last 10 years, 1,611 square km of forests have been diverted for non-forest purposes, including for infrastructure and industrial projects, a little bigger than the size of New Delhi. That is about 0.21 per cent of India's total forest area of 7.75 lakh square km. (|Lutyens' bungalows, RBI, encroachments are 'forests' in govt's forest cover map)
https://indianexpress.com/article/express-exclusive/deforestation-timber-trail-afforestation-myth-8474160/
Compensatory Afforestation neither compensates nor forests: 60% funds unused
(Report by Indian Express)
Barren and rocky land where new saplings are precariously surviving; plantatsions split over multiple disjointed locations; funds worth thousands of crores meant for expanding forest cover lying unutilised in state coffers — India's showpiece compensatory afforestation programme is struggling to compensate for forests being cleared for development. In the process, an investigation by The Indian Express in association with the International Consortium of Investigative Journalists (ICIJ) reveals, good quality dense forest land is often lost while new plantations are sought to be grown on land where little had ever grown before.The compensatory afforestation programme is a unique legal requirement that seeks to offset the loss of forests due to infrastructural and industrial projects. It is also a crucial tool towards achieving India's commitment to create an additional carbon sink of 2.5-3 billion tonnes of carbon dioxide equivalent by the year 2030.
Several other programmes, such as the Green India Mission, Namami Gange and MGNREGA, also support afforestation and contribute towards this effort. But compensatory afforestation is the most ambitious and the most resource rich, financially. Under the Compensatory Afforestation Fund (CAF) Act, 2016, project developers, government or private, are obliged to pay a compensation amount, and various other fees, if the project involves diversion of forest land. This money can be used only for afforestation, or related, purposes. Since 2016, when the law was enacted, more than Rs 66,000 crore has been collected in a national fund. Official records show that about Rs 55,000 crore has already been transferred to the state governments in the last five years, to be utilised for plantations which can grow to become forests after a few years. However, only Rs 22,466 crore, just about 40 per cent of this amount, had been allocated for afforestation works. The rest of the money is sitting idle in state government accounts, officials said. What is more, money is not often released at the right time. Plantations have a seasonality, officials said.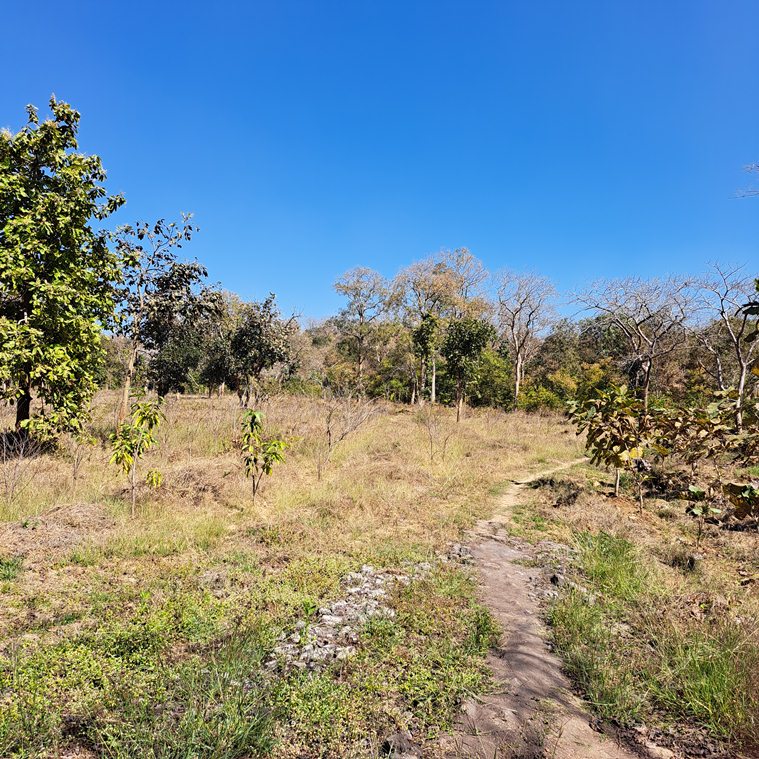 Government officials say money for afforestation can be utilized only in phases, and it is not a one-time expenditure. Records also show that afforestation activities had been started on at least 90 per cent of the lands identified for this purpose since the compensatory afforestation programme began — on 10.29 lakh hectares of land in total against the diversion of 11.38 lakh hectares of forest land for non-forest purposes. But then, money is only one part of the problem. The Indian Express visited five illustrative compensatory afforestation sites in Chhattisgarh and Odisha, two of the most heavily forested states, to find that the plantations hardly resembled the forests being cleared. A major part of the reason is that new plantations take several years to develop into a forest, and most of the compensatory afforestation is still relatively new. But the key challenge is the mainly the quality of land over which plantations are being grown. For example, in Dhamtari district, about 70 km south of Chhattisgarh capital Raipur, forests are being cleared for the construction of 124 km of new highway that will link to Visakhapatnam, a critical port for the export of the state's vast mineral resources.
Records show that more than 87,000 trees spread over 228 hectares of lush green, dense forests are being cleared for this 45-metre wide road being constructed under the flagship Bharatmala highway project. They also show that 457 hectares of land has been allocated for compensatory afforestation, double the area of diverted forest, over which more than 5.02 lakh saplings are being planted. But here's the catch: unlike the diverted forest, land for compensatory afforestation is not contiguous but spread over 19 locations. About 150 km east from Raipur, in Bhilaigarh, there is another set of slightly older plantations being grown to compensate for forest land taken away for a railway project. The qualitative difference between the forest lands being diverted, and the land used for compensatory afforestation couldn't be starker.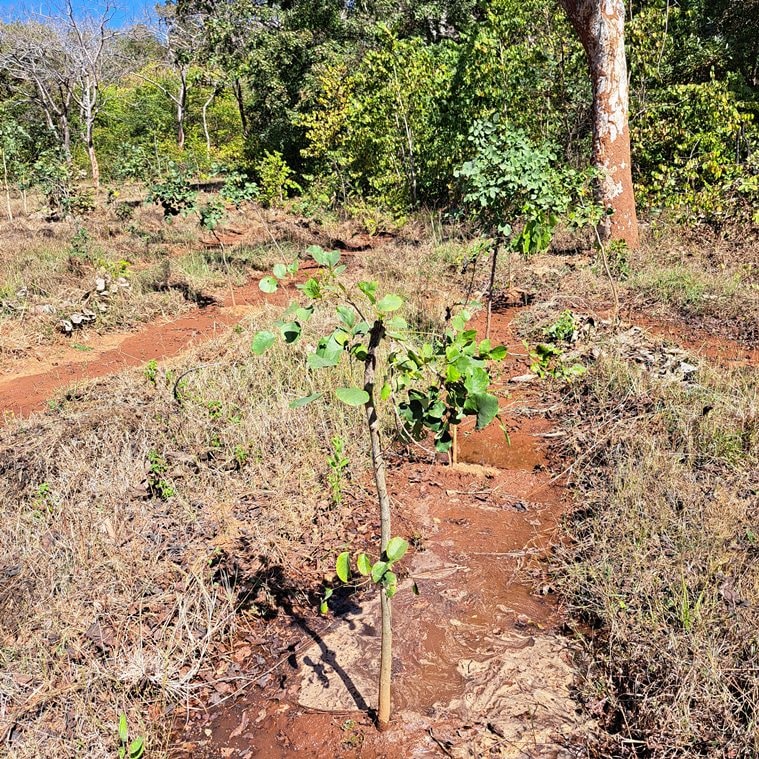 A plantation site in Bhilaigarh, Chhattisgarh. The Indian Express visited three sites here, all of them extremely rocky patches on hills, where nothing was growing earlier. At the oldest of these sites, where saplings were planted three years ago, a fair amount of growth could be seen. But the two other locations showed little prospect of letting anything like a forest grow on them.
Allocation of such barren, rocky land for afforestation is not an aberration. "We mostly get only degraded, barren lands for compensatory afforestation. The plantation sites are often also high biotic pressure areas, meaning nearby human habitations or cattle use it for their own purposes. Plantations on these sites would obviously find it difficult to compete with natural forests. But still, there are several cases of successful plantations," said Srinivas Rao, Additional Principal Chief Conservator of Forests overseeing compensatory afforestation in Chhattisgarh. It's a similar story in several of these compensatory afforestation sites, like the two The Indian Express visited in Kalahandi district of Odisha, about 20 km outside Bhawanipatna town. "There are sites here where the plantations have all died. It's all barren now," said Dasrathi, who works for forest and tribal rights through a local NGO in Bhawanipatna. A retired forest official, who had been instrumental in drawing up the compensatory afforestation programme but did not wish to be named, said it would be wrong to think that new plantations could "compensate" for the loss of forests that get diverted.
"Compensatory afforestation is compensatory only in name… because it is being done in lieu of forest land being diverted. It is not a bad idea, in fact quite a useful one, and is one-of-its-kind programme anywhere in the world. But to expect that plantations can truly compensate for good quality forests is unrealistic. Natural grown forests are not just about trees, it is the entire ecosystem… biodiversity, wildlife, water bodies. Loss of these cannot be compensated by plantation exercises, at least not within a few years. But compensatory afforestation is not a useless exercise. It is quite valuable. The important thing is not to compare the two, and raise expectations of creating new forests that would be just like a natural one. We will be greatly disappointed in that case," the ex-official said.
But others, including activists, argue that compensatory afforestation was creating newer problems as well. "There are instances where the forest department has done compensatory afforestation on lands that belonged to tribals and forest-dwellers. This has happened despite guidelines that compensatory afforestation has to be aligned with the Forest Rights Act which grants tribals and other forest-dwellers legal ownership rights over the land they live and use for livelihood purposes," said Tushar Dash, an independent researcher who works on forestry related issues, including compensatory afforestation.
https://indianexpress.com/article/express-exclusive/express-investigation-compensatory-afforestation-funds-unused-8479513/
(Visited 60 times, 1 visits today)